Happy Birthday America. And God bless all those who keep us free!
Here is a story about one of them, from today's
JewishWorldReview.com
first person/ follow-up
AT EASE
By Mordechai Schiller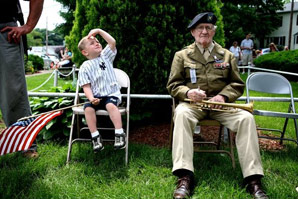 Back in November, JWR ran a profile of Dr. Arnold Rist, 65th Armored Infantry Battalion, 20th Armored Division, one of the liberators of the Dachau concentration camp. The article received an unprecedented amount of reader response. And if you didn't read it then, you should now by clicking HERE. (Letters for this living hero still encouraged).
Today, we offer a follow-up to the original article.
AT EASE by Mordechai Schiller